BEING A VOICE OF REASON IN UNCERTAIN TIMES
Free Resource Page for Real Estate Agents
If You're a KCM Member, Login Now
To access and share your personalized versions of this content, make sure you first
login to the KCM Member Area.
When social issues spark panic in your community, it gives real estate professionals like you the opportunity to be a voice of reason.
Restore confidence to your clients and stabilize your business during these uncertain times by using this content in conversations, emails, social media or for your own understanding of what's happening in the market right now.
We'll keep this page up-to-date as new information becomes available, so check back frequently.
– The KCM Crew
Latest Content
Blog Posts:
Videos:
With so much changing in today's market, it's important to know what the experts are saying. Let's connect to discuss how these changes may impact you.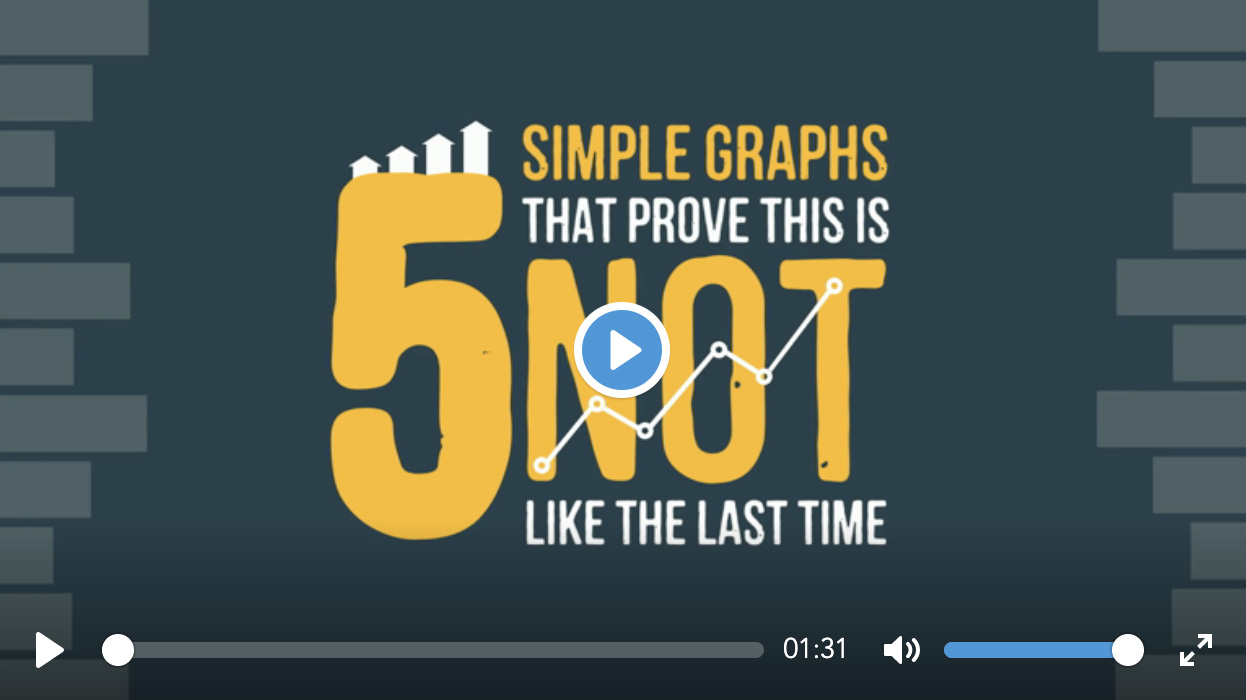 There's a lot of evidence showing that today's housing market is nothing like it was during the last recession. Let's connect to talk about your questions and specific needs.
Social Posts:
Click an image below to download and share with your prospect & clients.
Charts & Graphs:
Click an image below to download and share with your prospect & clients.
Best Practices:
Will a Recession Cause a Housing Crash like 2008?
With all the volatility in the stock market and uncertainty about the Coronavirus (COVID-19), some are concerned we may be headed for another housing crash like the one we experienced from 2006-2008.
And it makes sense that buyers and sellers remember the horrors of 2008 when they hear the word "recession."
Most experts, however, believe if there is a recession, it will not resemble 2008. This housing market is in no way the same as it was just over a decade ago.
Read the blog post, 5 Simple Graphs Proving This Is NOT Like the Last Time, then share it or each of the graphs from the blog.
Sample Caption
Many people fear the stock market volatility from the pandemic is going to cause another recession.
Whether or not that happens, it's important to remember one very important thing:
A recession does not equal a housing crisis or "crash" like we saw in 2008.
A recession doesn't even mean that home prices will depreciate. If you look at the above graph, you'll see that in the five most recent recessions, only two of them saw values decline.
While we may not know what the future holds, if you are pausing on buying or selling a home because you think a recession will cause another housing crisis…they're not the same thing, and you could be missing out on today's record-low mortgage rates.
Sincerely, your trusted real estate advisor.
#housing #ushousing #ushousingmarket #ealestate #realestatetips #housingcrisis #notarecession #recession #buysell #forsale #covid19 #realtortips #realestateadvice #realty #instarealtor #realestateagent
---
How Has the Housing Market Been Impacted by Previous Stock Market Corrections?
The Coronavirus (COVID-19) has caused massive global uncertainty, including a U.S. stock market correction no one could have seen coming.
While many are wondering if this is a situation like 2008, David Rosenberg Chief Economist for Gluskin Sheff & Associates sees a more accurate comparison:
"What 9/11 has in common with what is happening today is that this shock has also generated fear and anxiety among the general public. People avoided crowds as they believed another terrorist attack was coming and are acting the same today to avoid getting sick. The same parts of the economy are under pressure – airlines, leisure, hospitality, restaurants, entertainment – consumer discretionary services in general."
When you compare the stock market correction of that time period to how the housing market performed, home prices were not negatively impacted. In fact, they appreciated considerably that period of S&P downturn.
Read the blog post, Economic Slowdown: What the Experts Are Saying, then share it or the graph from the article.
---
Sample Caption
9/11 has a lot in common with what is happening today.
People are avoiding crowds and the same part of the economy is under pressure.
If you take a look at the above graph, you see that during the "Dot.com" scare and after the 9/11 terrorism attacks, the stock market showed volatility like we're seeing today.
However, the housing market wasn't affected, and home prices actually appreciated.
#knowyourfacts
#mortgagerate #housingmarket #buysell #realestate #realestatemarket #keepingcurrentmatters #realestateagent #realestatetips #realestateadvice #forsale #refinance #realtorlife #instarealtor 
---
Will We See a Rise in the Number of Foreclosures?
With all of the havoc being caused by COVID-19, many are concerned we may see a new wave of foreclosures. Restaurants, airlines, hotels, and many other industries are furloughing workers or dramatically cutting their hours. Without a job, many homeowners are wondering how they'll be able to afford their mortgage payments.
In spite of this, there are actually many reasons we won't see a surge in the number of foreclosures like we did during the housing crash over ten years ago.
---
Sample Caption
Here's a great graph showing why this is not 2008.
Before the 2008 housing crash, many homeowners were withdrawing the equity from their homes.
This "cashing out" led to many negative equity situations where the amount of a mortgage was greater than the value of a home.
Many foreclosures and short sales followed, thus lowering the values of all the homes in the area.
BUT homeowners have learned their lessons!
In fact, there is $500 billion more equity in American homes today than there was in 2007.
So, what does this mean for you? It means more than likely, home values will not depreciate as a result of a recession this time.
#mortgagerate #housingmarket #buysell #realestate #realestatemarket #keepingcurrentmatters #realestateagent #realestatetips #realestateadvice #forsale #refinance #realtorlife #instarealtor 
Additional Resources
Below are a list of additional resources for you from experts in the real estate industry: