Below are the new features, updates, and bug fixes made to your KCM Membership as of the December 21, 2017 release.
New Millennial eGuide lead capture page
Included in this release is an updated version of the Millennial eGuide and also the ability to easily share the Millennial eGuide to your social media pages or anywhere you'd like.
You can turn on your Millennial eGuide lead capture page by visiting your Personalized Posts profile and checking off the 'Millennial Guide Page' option within the Lead Capture section.
Then visit the Millennial eGuide page in the KCM Member Area and you'll see a 'Share' button that will take you to your lead capture page where you'll find share buttons for your social media pages.
Ability to email any blog post
You can now email any KCM blog post! All you need is a free MailChimp account to start emailing posts to individual contacts or a full list of buyers and sellers. Just click here to get started or get all the details!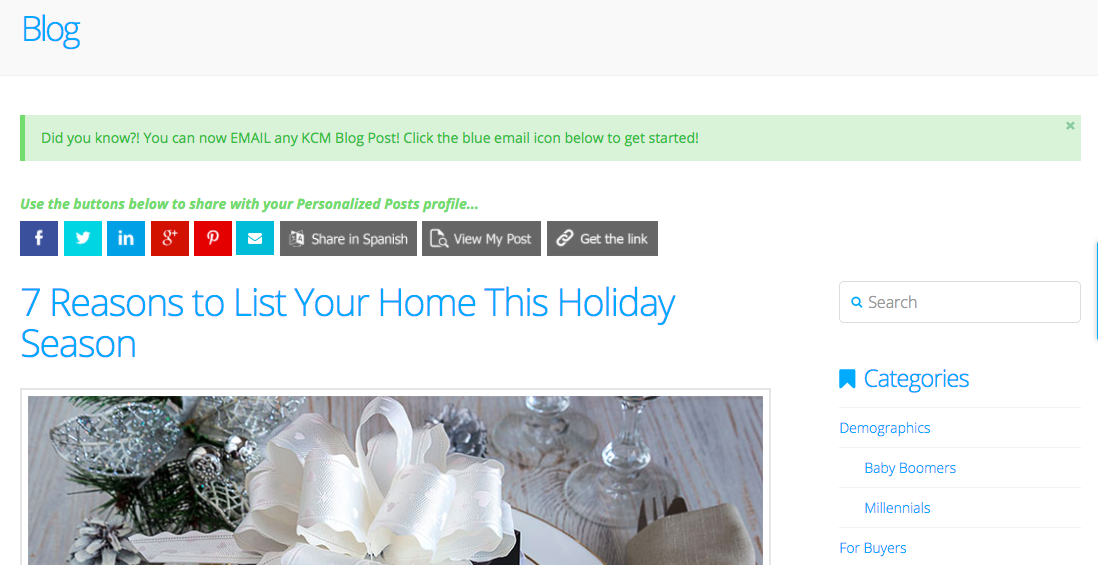 You can use the email button no matter what CRM you currently use. Creating a free MailChimp account will allow you to email your posts to anyone. Plus, if you use Realty Juggler, Top Producer, Contactually, Follow Up Boss, or Wise Agent, you can sync your contacts with MailChimp to seamlessly email your KCM blog posts to them!
Questions?
If you have questions about any of the updates made to your KCM Membership, our Support team is happy to help! Just click the button below to contact us or give us a call at 631-787-6200.
Contact KCM Support